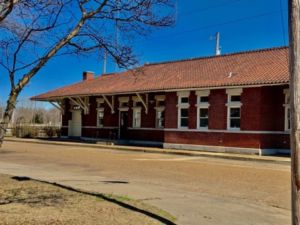 Location: 100 South Railroad Street – McGehee, AR
Donations: P.O. Box 1263 – McGehee, AR 71654
Phone # 870-222-9168
MIFMuseum@gmail.com
http://rohwer.astate.edu
Hours of Operation: Tuesday – Saturday 9 a.m – 4 p.m
Admission is Free
The WWII Japanese American Internment Museum is housed in the renovated southern building of the McGehee Railroad Depot. The museum opened in 2013 with special guests from all over the United States, including George Takei of Star Trek fame. The museum exhibit was donated by the Delta Cultural Center (Helena, AR) and is entitled "Life Interrupted – Against Their Will". It was originally created by students at UALR in 2004.
At the Visitor Center, an interpretive exhibit explores the 1940's history of nearby Rohwer and Jerome, two Delta towns where U.S. Government internment camps housed more than 17,000 Japanese Americans. The museum depicts the history of these two Arkansas camps. Because of the internees, the towns became the 4th and 5th largest in population in the state of Arkansas during that time.
The museum also includes two computer desks kiosks (installed October 2013); a one hour video available in the media room, "Time of Fear"; a lending library; memorabilia from the camps; and a museum store. A traditional Japanese garden is located behind the building.
The museum, located in downtown McGehee, is next to the Historic McGehee Railroad Museum and adjacent to the Memorial Gardens, Gazebo Park and Veterans Memorial.
At the actual site of the Japaneses American Relocation Center Memorial and Cemetery at Rohwer, new signage has been installed. Visitors have access to 8 interpretive panels and 5 audio kiosks situated along a designated walking route at the southern end of the former relocation center site.
Two authors with Arkansas ties have written novels based at the Rohwer camp. Camp Nine – Vivienne Schiffer and The Red Kimono by Jan Morrill.
Awards:
2015
Henry Awards – Bootstrap Award Winner – presented by
Arkansas Parks & Tourism – Governor's Conference on Tourism
2014
Natural & Cultural Heritage Award – Arkansas Delta Byways
2013
Cultural Heritage Award – Arkansas Delta ByWays
Natural State Category Finalist – Arkansas Governor's Conference on Tourism
Southern Travel Treasure by AAA Southern Traveler Magazine
2011
Henry Award Finalist , Arkansas Governor's Conference on Tourism