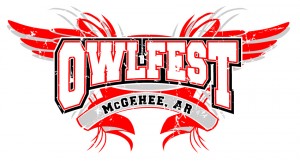 Schedule of Events will be posted at a later date. Entry forms are being posted as they are available. For updates on Owlfest, like us on Facebook or visit the Owlfest website. Contact us at owlfest@mcgeheechamber.com for any other questions.
Owlfest is McGehee's city-wide festival held downtown. Festival includes free entertainment the whole weekend. Other family friendly events include a 5K Run/Walk, carnival with children's area and blow up bounce house and slide, petting zoo, two street dances, live music, Owl Hoot contest. Additional events include a talent show, horseshoe tournament, motorcycle show, golf tournament and last but not least food and arts craft vendors.
Friday the town will support McGehee Owls in their annual homecoming game at Owl Stadium. Many classes plan their reunions at this time. If your class is planning a reunion, we encourage you to register your event with the Owlfest committee so we can assist you. The night continues with a downtown street dance following the game is the place to be with a DJ filling the air with modern, fun music. The night concludes with a spectacular firework show.
Saturday join the Razorback Tailgate party downtown to cheer the Hogs to victory.
Interested vendors are encouraged to call or e-mail your information to Haley at 870-222-2886 or haley_riley@hotmail.com